ONLINE Short Course Net Zero InTIME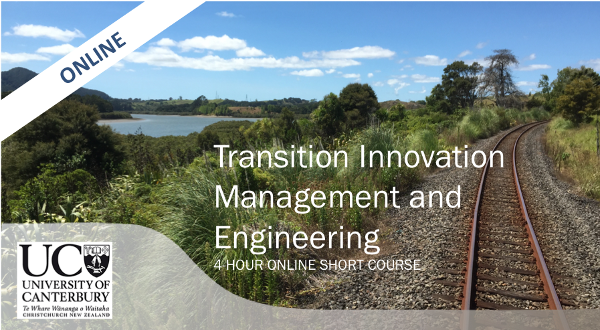 5 point Micro-Credential offered by University of Canterbury, NZ
What is Interdisciplinary Transition Innovation, Management and Engineering (InTIME)?
Transition Engineering is the way the projects of carbon down-shift get done. Long term plans involve a lot more than meeting emissions targets, but at this critical time all of our infrastructure, buildings, land use and products must be redeveloped into the adaptive, resilient and low carbon versions which provide for social, environmental and economic wellbeing. Engineers are critical for successful design and implementation the types of shift projects required. Transition Engineering uses a logical approach that is straightforward to use in practice. The Interdisciplinary Transition Innovation, Management and Engineering (InTIME) process brings engineering analysis and advice into the policy and planning discussions in new collaborative ways.
The technologies and designs we should be implementing are largely known. Transition Engineering innovations are about HOW to ACHIEVE THE CHANGES.
How does Transition Engineering Work?
In 2011 about 150 engineers gathered in London and started the movement. They recognized that the problems of global warming are "wicked" in that they can't be "solved" by government, consumer choice, market forces or new green technologies that are always 10 years in the future. Transition Engineering is the responsibility of every engineer in every field, but especially in oil, coal and gas, water, infrastructure, automobile manufacturing, airlines, architecture and buildings. Just like Safety Engineering, there are some experts, industry sponsored researchers, a good number of training programmes, new methods and products we didn't even know we needed, new standards, and awareness and innovation.
Transition Engineering is like Safety Engineering, it is bottom-up, locally relevant and involves the communities and organisations from inception to delivery.
What will I learn in the Micro-Credential?
Transition Engineering is being included in undergraduate and professional development courses around the world. Participants are encouraged to read Transition Engineering, Building a Sustainable Future, (Taylor & Francis, CRC Press, Nov. 2019).
You will learn how to deal with the wicked problems of decarbonization in your locale.
You will learn how the InTIME workflow can generate a new perspective on our wicked problems.
You will learn how this new perspective changes the future by finding next steps along transition pathways.
Accredited Course
The Global Association for Transition Engineering (GATE) was officially opened in 2018 as a professional organisation with the object of achieving the COP21 Paris Agreement Targets. GATE has full member review and chartered status for engineers who already have demonstrated knowledge of the basic methodology and who put forward evidence of their work on transition projects. The 5-point Micro-Credential is accredited by GATE for introduction to the InTIME workflow.
Course Offering 2021
University of Canterbury in New Zealand is offering a new Micro-Credential in Transition Engineering in 2021 in both Semester 1 (Feb-July) and Semester 2 (July – November). The course consists of 4 hours of content and reading the book. The assessment consists of short quizzes on the video content and writing a commentary on at least 3 of the examples of InTIME projects. The completion of the micro credential is worth 5 points at level 8 (postgraduate professional development). Completion will include a certificate issued by University of Canterbury. The pre-requisites are a Bachelors Degree or 10 years work experience in any discipline.
Delivery
The video content will be available on-demand on line during the semester of enrolment. The video content consists of 10-15 minute segments. The micro lectures will extend and illustrate the key ideas in the text Transition Engineering, Building a Sustainable Future (2019). The example problems are presented in videos. You may watch all of them, but credit for the course requires participation in the on-line discussions of the topic and submission of a 500-1000 word commentary on 3 of the examples.
Who would benefit from this course?
The way we got to this point, and the critical pathway are "whole of society" endeavours, and the journey is complex and difficult to navigate. This course teaches a common language and workflow that is trans-disciplinary.
Policy-Makers, Economists, Financial Analysts, Investors

Planners, Business Developers

Leaders, Marketers, Media and Communication, Journalists

Sustainability Managers, Architects, Urban designers

Primary Producers, Miners, Oil Industry

Social Entrepreneurs, Consultants, Philanthropists

Managers, Advisors

Engineers, Scientists, Academics
---
Course Plan
Lectures
Lecture 1 – The Problems of Unsustainability
Complexity, Energy & Growth, Politics of Energy and Economics. The Wicked Problem of Global Warming and Fossil Fuel Production – Translation into simple engineering requirements.
Lecture 2 – Transition Engineering Methodology
The Interdisciplinary Transition Innovation, Management and Engineering (InTIME) Methodology.
Lecture 3 – Application of the InTIME Methodology
Analysis and modelling approaches for the different steps explained and demonstrated.
Lecture 4 – Social Expectations, Economics and Policy
Green solution technologies. EROI and other transition economics analysis methods. How to inform policy?
Examples of Wicked Problems and InTIME Shift Projects
Wicked Problem - Oil
History of Oil, policy and economies. The wicked problem of oil. Review of petroleum geology, combustion, power plants and engines. The Matrix Game and The BigDO.
Shift Project – Transition of Private Urban Transportation
History of Transport, accessibility and mobility in cities and the role of technology and infrastructure and land use. The wicked problem of cars and total mobility. Personal vehicle transport in urban areas. Transition Engineering of travel demand. Resilience.
Wicked Problem – Interregional and International Travel
Air, rail and sea passenger transport. Green vehicles and fuels. Resilience.
Shift Project – Transition of Freight Supply Chains
Freight transport and supply chains. The wicked problem of the just-in-time shipping. Inter-modality and shipper behaviour. Land use and Infrastructure. Costs and frictions. Resilience.
Wicked Problem – Transition of Electricity and Electric Power Systems
History of power generation, grids and end uses, policies and economics. The wicked problems of demand growth, intermittent renewables and decarbonization. The Grid. Microgrids. Off-Grid. Electric Utilities, end use sectors, loads, markets. Demand Side Management. Renewable generation, intermittency and transition.
Shift Project – Transition of Buildings
History of energy use in commercial, public, retail and residential sector buildings. The wicked problem of legacy of low standard buildings. Review of building energy modelling and management. Energy Auditing. Green buildings and technologies. Transition Engineering of re-development and demand side participation.
Shift Project – Transition of Housing
History of the home and the locations of residences in settlements and cities. History of economic systems and models. The wicked problem of affordability and accessibility. Housing ownership, rent and construction. the 500 year house.
Wicked Problems – Transition of Products, Processing, Manufacturing and Packaging
History of mass manufacturing, stuff and marketing. The wicked problem of marketing driven demand and dependence. Essentiality. Equity. Globalization and the effects on emissions and pollution from products. Economics of Stuff, retail, freight and disposal footprints. Packaging. Transition from consumer to human.
Shift Problem – Transition of Industrial Process Heat
History of coal and natural gas in industrial processing. History of coal and gas resources. Combustion and air pollution. Wicked problems of the industrial age of manufacturing. Disruptive innovations.